Välkommen till en digital utställning!
Här visar deltagare i vår distansutbildning Forma broderier upp sina examensprojekt.
Lärare på utbildningen var Sofia Lindblom.
Hannah Streefkerk
My name is Hannah Streefkerk (b. 1973) and I come originally from The Netherlands, where I received my Master in Visual Arts at the Art Academies of Maastricht and Groningen. For the past 8 years, I have been living and working in Sweden. I work as a visual artist and a craft teacher.
In my art works, I investigate our role toward nature, how we see or don't see nature. I utilize a lot of textile techniques and materials in my installations, two-dimensional works and art in nature, which I show all over the world. In a lot of my works textiles and textile techniques, like crocheting and embroidery, play a significant role. The time consuming nature of this techniques, fits well to the main themes in my work; environmental issues and the nature of time.
How do we look, or not look at nature. As a contemporary Florence Nightingale, based in nature, I go into the forest to mend wounded trees and leaves, using yarn. I stitch together the torn bark of various trees and repair the holes in fallen leaves on the forest's floor.
Today the trend in our everyday lives is to 'use and discard', instead of taking time to repair or restore our belongings. We would rather buy a new pair of socks than try to stitch up the holes, and we would rather buy a new chair than try to fix the broken leg back on.
I challenge this attitude, as I take it upon myself to manually repair my natural surroundings, or emphasize details in nature with needle and thread. I create a visual metaphor for our responsibility for taking better care of our environment.
At the course Forma Broderier I worked on a series of work called Symbiosis. I wanted to follow this course to explore embroidery as a technique.
I embroidered a lot of lichen. Since I live in Sweden I have found a kind of way to get to know the impressive nature better by starting with small details like lichen. Lichen are symbiotic 'creatures' which can not exist without this symbiotic lifestyle. I would like to enlarge this symbiotic lifestyle on us humans; we need to live more symbiotically with our surroundings, both human beings and nature.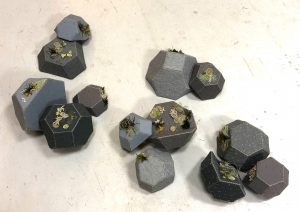 Är du nyfiken på vår distansutbildning Forma broderier 2021?